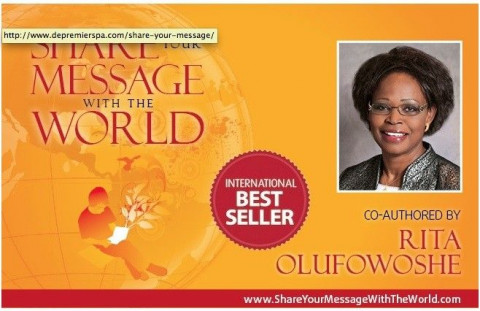 #Shareyourmessage
Rita Olufowoshe is an International Best Selling Author in a book – "Share Your Message with the World". Her chapter in the book is 27 - "Health and Wellness in Your Hands (Listen to Your Body's Wakeup Calls)".
She is the founder and CEO of a thriving Center for Aesthetics and Wellness Spa, LLC (De Premier Spa). She has been in the spa industry for over 25 years. Since 1992, she has owned and managed two-day spas, and recently opened a third one in Houston, Texas. She studied aesthetics, cosmetology, and massage therapy in Netherlands, Canada, and United States. She is a Medical Massage Therapist and Medical Aesthetics Provider, a professional member of AMTA, ABMP, ASCP, BNI and has National Provider Identification number (NPI). Rita has degree in Business Administration, Masters in Healthcare Gerontology and currently completing Personal Trainer Certification.
Her focus is to encourage, motivate and educate people to be the CEOs of their health and wellness, by listening to their body's wakeup calls, and taking necessary actions before chronic health issues set in. As a licensed professional, she integrates medical aesthetics with alternative and complimentary therapies to treat and educate clients in achieving health and wellness goals. Rita provides personalized skin care and wellness programs using cutting-edge techniques. Taking into consideration today's health and wellness challenges and tomorrow's needs, she provides clear, simple solutions that work and will keep you feeling and looking healthy from inside out for many years to come.
You Have Your Health in Your Hands! Listen to Your Body's Wakeup Calls. If you don't, Who Will?
As a licensed registered professional and National Provider, she integrates medical aesthetics with alternative therapies to advise and educate clients in achieving wellness goals. She is dedicated to the power of touch and the healing that it can provide.
Rita believes in giving back to the community through volunteer programs - providing spa and massage services to senior's homes, Churches, Hospitals, Veterans. Her latest giving back to the community is massage for Teachers.
Click here to get a copy: http://www.depremierspa.com/share-your-message/
Specialties
24 Years In Practice.
ABMP Member
Acupressure
Advanced Training In Oncology And Fragile Client Massage
AMTA Member
AMTA Volunteer
And Much More. Custom Personalized Gift Certificates Available.
Aromatherapy
AromaTouch Technique
Back Massage
Body Scrubs
Body Wraps
Cancer/Oncology Massage
Cash
Certified
Clincial Muscular Therapy
Cold Treatments
Connective Tissue Therapy
Couples Massage
Credit Card
Deep Tissue
Deep Tissue massage
Ear Candling
Ear Candling Therapy
Event Chair Massage
Facials
Fibromyalgia Therapy
Geriatric Massage
Gift Certificates Available
Hand And Foot Reflexology
Headache Relief Massage
Healing Touch
Health & Wellness
Hospital Massage
Hot & Cold Stone Therapy
Hot Stone Massage
Hot Stone Therapy
Lymphatic Drainage
Lypossage
Massage Cupping
Medical Massage
Member AMTA
Muscle Energy Technique
Myofascial Massage
Myofascial release
Myofascial Scar Release
On site chair massage
Orthopedic Massage
Pain Relief
Phototherapy Pain Management
Pregnancy Massage
Pressure Point Therapy
Raindrop Massage Thechnic
Reflexology
Rehab Therapy Strenth Training .
Skin Care
Spa Treatments
Sports Massage
Structural Relief
Swedish Massage
Therapeutic Massage
Therapeutic Touch
TMJ Release
Trigger Point therapy